I started walking the Pieterpad at the beginning of May 2018, doing day-stages (more or less) in order from North to South as and when I have time and inclination. You can see a summary of my progress here: Pieterpad stages. 
Some general background on what it is and why I'm doing it:
The Pieterpad
The Pieterpad is the oldest and most famous long-distance walking route in the Netherlands. In a little under 500km, it takes you along the eastern side of the country from Pieterburen on the Waddenzee coast to the St Pietersberg on the Belgian border outside Maastricht. The route avoids most large centres of population, and takes you through some relatively little-known areas. Highlights include the dolmen-strewn boulder-clay plateau of Drenthe (rising to a dizzying 26m above sea level in places), the Sallandse Heuvelrug, and the rolling hills (yes, hills!) of Zuid Limburg.
The name of the route is just a little joke playing on the coincidence of the two names: unlike most long-distance trails, the Pieterpad doesn't claim to be based on a particular geographical feature or a historical trade or pilgrimage route, it's simply a pragmatic attempt to create the longest interesting point-to-point walking route that you can reasonably fit inside such a small country. It started out as a private initiative by two retired ladies frustrated by the lack of proper walking routes in bicycle-dominated Holland. Toos Goorhuis-Tjalsma and Bertje Jens worked out the original route between 1979 and 1983, unexpectedly creating a rebirth of interest in walking; since then a whole official and voluntary structure for looking after walkers' interests has been developed, and many thousands of km of new walking routes laid out. 
The Pieterpad is now managed by NIVON, the Dutch counterpart of the Austrian/German organisation Naturfreunde. The route is marked throughout with the standard red-and-white markers used for national long-distance trails (LAW) in the Netherlands, and NIVON publish the indispensable two-part guidebook, which contains clear maps of the route (1:50k topo-maps blown up to 1:25k and overprinted with route information) and a lot of background information about the places you come through.
The Netherlands is a country where humans have a long history of tinkering with the landscape, and that still goes on today - not only do new roads, suburbs and industrial areas suddenly pop up, but also new areas of "nature" are created as priorities shift between agriculture, conservation, water-management, and recreation. Because of its length and the great variety of places it comes through, the Pieterpad regularly has to be updated to take such changes into account. Before setting out, it's always a good idea to check the latest updates on the Pieterpad website (this list includes both permanent changes to the route and temporary diversions around construction works and the like). By the way, this constant tweaking of the route explains why the distances on fingerposts you find along the way never seem to add up to the same amount. 
The coordinating organisation for long-distance paths, Wandelnet, has GPS routes available for download, but you have to use these with a bit of caution - some stages (e.g. around Gennep) are out-of-date and still show the route from previous editions of the Guide, others already incorporate changes made since the current Guide came out. If in doubt, always follow the red-and-white markers.
Long-distance walking
On the whole, I'm not a big fan of long-distance routes: I often cherry-pick interesting stages from them as day-walks, but rarely make a sustained attempt to walk a complete route. When I've done it, I've enjoyed the feeling of achievement involved in getting from A to B by your own efforts, especially arriving in a place on foot, sleeping there, and then walking further the next day. But that pleasure is so often cancelled out by the discomfort of having to carry luggage, the tyranny of the rigid plan made in advance to ensure that you have somewhere to sleep (which means you can't take a day off from walking if the weather is too miserable to let you enjoy it), and the necessity of walking all the boring stretches of the route that are clearly only there to get you from one interesting bit to another. 
So how did I get sucked into doing another one? Well, mostly by accident, as happens with these things. Looking for new walks to try out last year, I did a couple of stages from the middle part of the Pieterpad, around Venlo and Nijmegen. Those led me to look up the complete route, and got me interested in at least having a little look at areas like Groningen where I rarely have any reason to go. So, of course, one fine weekend I did get the train to Winsum and got on the little bus to Pieterburen, which turned out to be entirely full of walkers about to start the Pieterpad. The walk from Pieterburen to Groningen isn't an especially beautiful one, but it was interesting, it was a lovely day, the presence of all those other keen walkers was inspiring, and somehow, by the end of the walk my mind was full of the thought of coming back to do the next bit!
I'm doing it in day-stages, mostly direct from home, which cuts out many of the inconveniences, but also some of the pleasure -- you get to a nice place at the end of the afternoon and you've always got your train or bus connection home in mind, rather than taking a shower and looking for a nice place to eat. And of course - even if you're retired and are generally supposed to have all the time in the world - you still end up with quite a lot of gaps between stages, because you have to juggle transport possibilities, weather, other commitments, and simple motivation. Another compromise tactic I've considered, but which hasn't really worked out so far, is to stay in a strategically-placed transport hub on the route for a few days, so that you would just have a fairly short hop by train or bus to the start-point of the stage. I'll probably try that sort of thing when I get down towards Zuid Limburg. 
My impression from the other walkers I've met during May is that the majority are also doing individual day-stages. Not many big rucksacks about, and most people I've talked to are either getting the train/bus home at the end of the day or have a car waiting for them. But that might well be different once the school holidays start. The one time I did meet quite a few walkers with luggage was on the bus to Pieterburen, and that was on the Saturday before Ascension Day, probably an obvious starting day for a short holiday people who need to count their vacation days.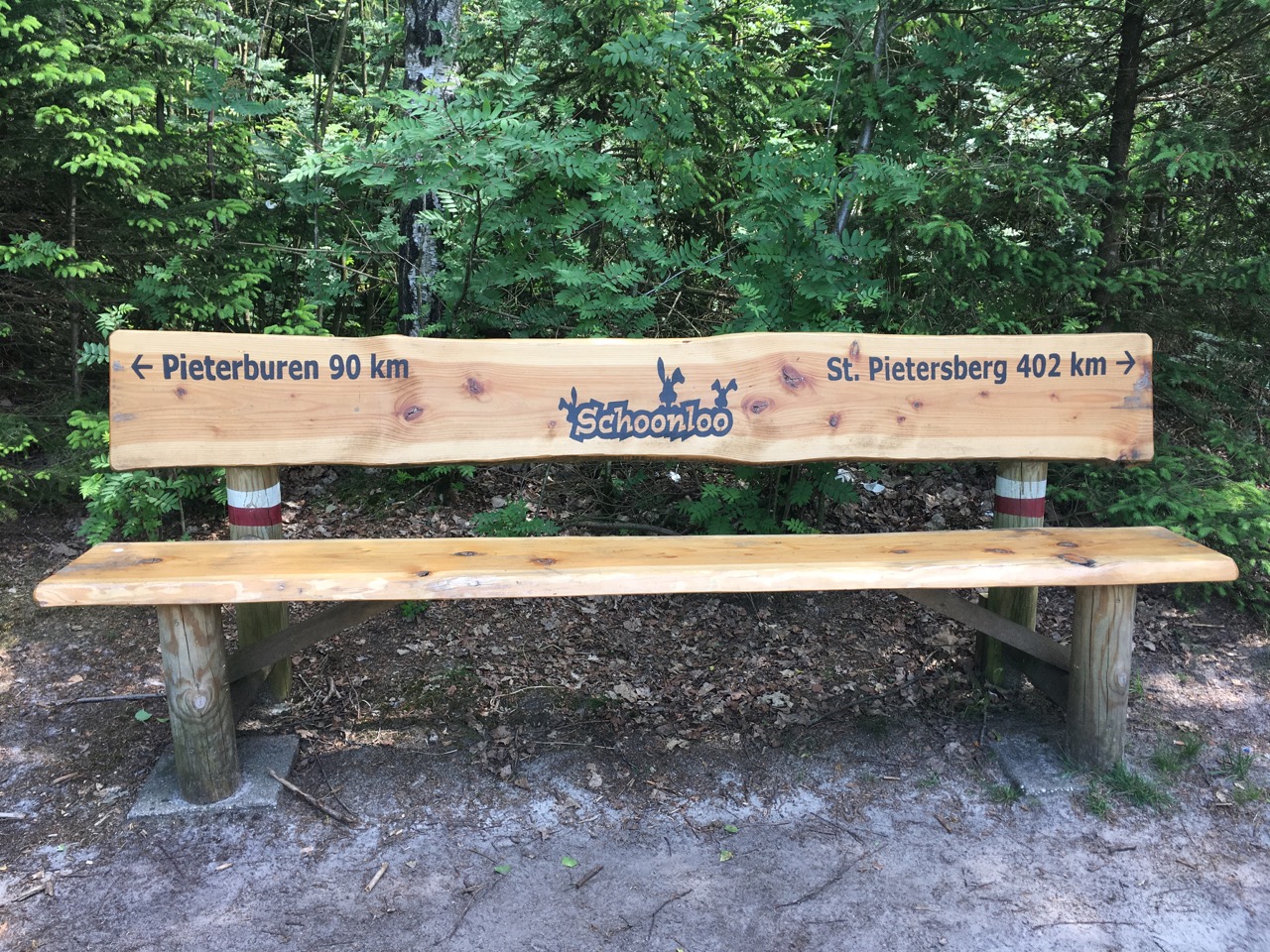 Details

Category: Walking
For a couple of years I kept a log of all my walks, mainly to see how much walking I was doing. But I soon got behind with the log, and now I've given up and only occasionally list them in a private diary. But it might be interesting to keep these logs as a little bit of history.
Details

Category: Walking
The Netherlands is a flat, densely-populated country, much of which is either heavily urbanised or intensively farmed. Everything is criss-crossed with roads and cycle paths. So perhaps it's not the first place that comes to mind when you're thinking about going walking. The bike is a much more obvious option for outdoor recreation here.
On the other hand, when you look closely, there are quite a few areas with a lot to offer the walker: in particular the dunes along the North Sea coast and the large area of higher, sandy ground, mostly covered in woods and heaths, lying to the east of Utrecht and Amersfoort are both very easily accessible from the Randstad. Many Dutch people are keen walkers, and even if they mostly walk on holiday in France, Switzerland, or wherever, they still like to have somewhere to walk closer to home, with the result that a very comprehensive network of marked local and national walking trails has developed over the last few years. 
A lot of the walks I do are based on railway walks (ns Wandelingen), which link together bits of long-distance routes to produce station-to-station (or sometimes station-to-bus-stop) walks of a reasonable length for a day or half day. You can download and print the descriptive leaflets, or get them from the nearest staffed station to the start of the route (see the link below). Something to be aware of is that the directions in the leaflet and the waymarks for the purely ns parts of the route are only provided for one direction. National long-distance routes (law: red/white) are normally marked for both directions, as are some, but not all, regional routes (Streekpad: red/yellow). If you reverse an ns route (e.g. because the train connections are better that way) you will have to rely on your map and gps. 
A minor drawback of ns walks is that they are quite popular: even if you meet no other walkers all day, there is bound to be someone else who arrives on your train and is going exactly the same way as you, at roughly the same speed.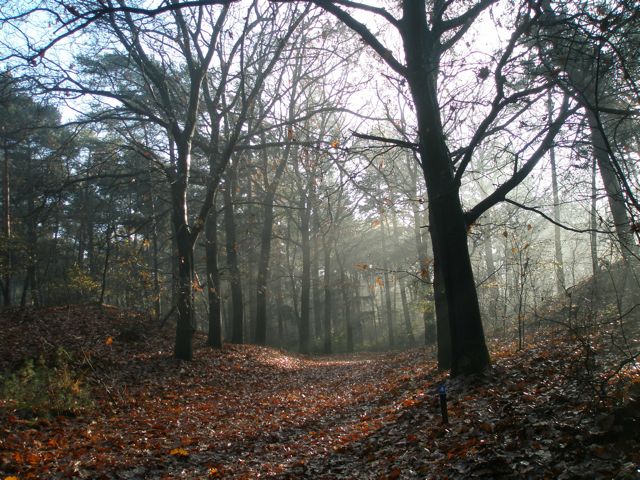 Useful links
www.eropuit.nl/wandelen — ns "days out" site. For each walk you can download and print the map and directions — some now also have gps routes.
Wandelplatform - LAW — the national coordinating body for long-distance walking routes: you can see the routes on Google maps and order the official guidebooks (these can also be found in most good bookshops).
gpsies.com — site with a lot of downloadable walking and cycling routes; can also be used to plan your own walks (tip: select the "osm cycle" map to see footpaths)
Details

Category: Walking
For a couple of years I kept a log of all my walks, mainly to see how much walking I was doing. But I soon got behind with the log, and now I've given up and only occasionally list them in a private diary. But it might be interesting to keep these logs as a little bit of history.
Details

Category: Walking
For a couple of years I kept a log of all my walks, mainly to see how much walking I was doing. But I soon got behind with the log, and now I've given up and only occasionally list them in a private diary. But it might be interesting to keep these logs as a little bit of history.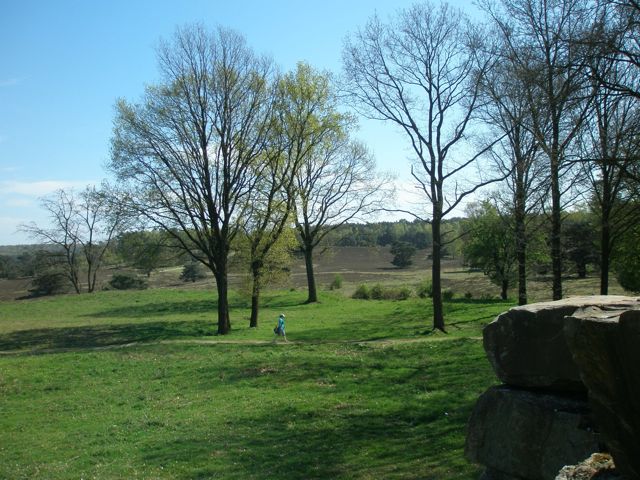 Details

Category: Walking